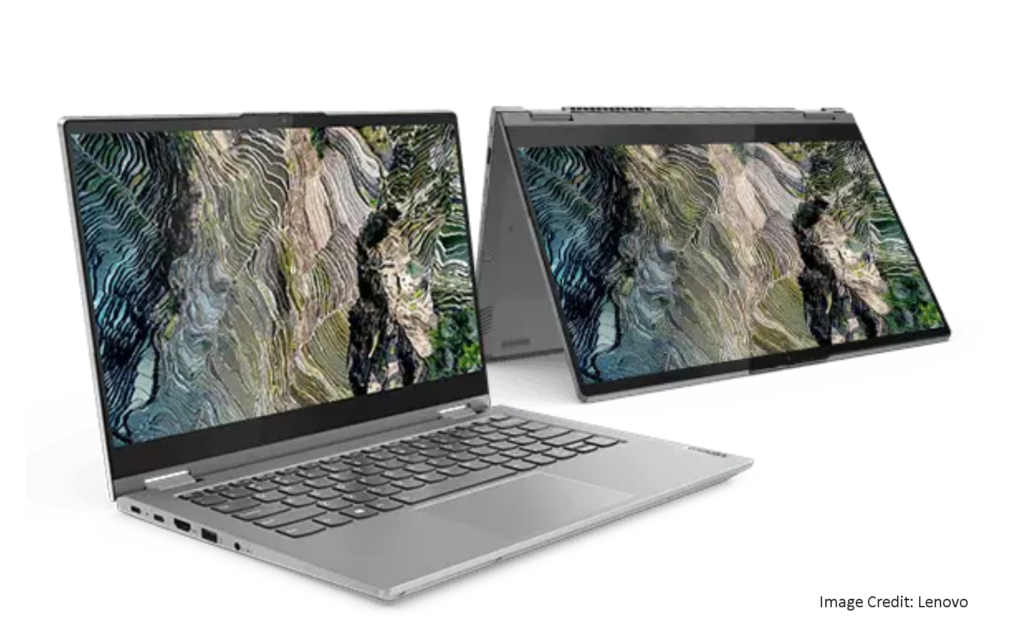 In mid-December Lenovo sent me a Mineral Grey ThinkBook Yoga 14S to review. I was looking forward to trying the ThinkBook, because as an artist, I prefer the glossy display that this product offers. This device was received as part of the Lenovo Insiders program. No additional compensation was involved. All opinions are my own.
Photo After Installing Windows 11 and My Preferred Apps: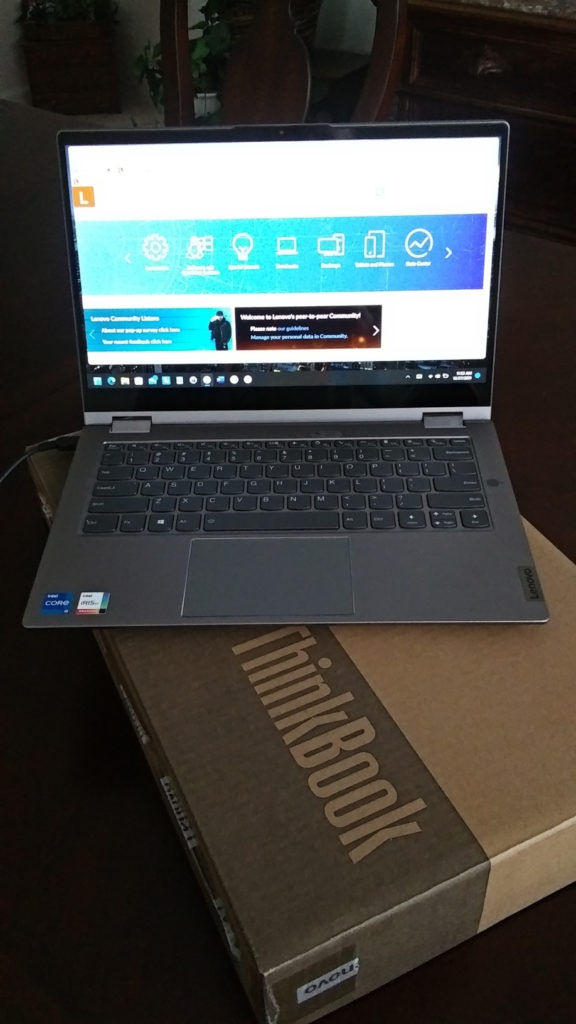 Processor
11th Generation Intel® Core™ i5-1135G7 Processor
(2.40 GHz, up to 4.20 GHz with Turbo Boost, 4 Cores, 8 Threads, 8 MB Cache)
Operating System
Windows 10 Pro 64 (Note: I upgraded to Windows 11 for my testing to see how ThinkBook performed with 11.)
Graphics
Integrated Intel® Iris® Xe Graphics
Memory
8GB DDR4 RAM
16 GB DDR4 3200MHz (8 GB Soldered + 8 GB DIMM)
Storage
512 GB PCIe SSD
Display
14.0" FHD (1920 x 1080) IPS, glossy, touchscreen, 300 nits
Camera
720p HD
Pen
Active Garaged Pen
Security
Fingerprint Reader
Keyboard
Backlit – US English
WLAN
802.11AX (2 x 2) & Bluetooth® 5.1
First look and Hands-On
The ThinkBook sports a 1,920-by-1,080-pixel display with thin top and side bezels. Lenovo's manual sliding ThinkShutter on the top edge disables the webcam when it is not needed. Two hinges simply fold the screen back to convert the unit into Tablet Mode, Presentation Mode, or Tent Mode.
A view of the right side shows the power button/ fingerprint reader, a USB 3.2 Type-A port, a microSD card slot, a security lock slot, and a "garage" for the (included) stylus pen.  (Note: The security slot takes a slim type lock. Be sure to research compatible locks for this specific device. I ordered a Slim Nano lock based on Kensington's ThinkBook Yoga 14S compatibility information but had to return it because it did not work – so save your receipt from wherever you order.)
On the left, you'll find another USB-A 3.2 port, a USB-C 3.2 port (used by the AC adapter), a Thunderbolt r4/USB4 port, an HDMI connector for an external monitor, and an audio jack.


Camera
I was not overly impressed with the camera. It is fine for attending online meetings, but for photo work, the camera images were less than I expected. In all fairness, I may be spoiled by the quality and LED displays on higher end ThinkPads that I use regularly.
Audio
The speakers on the unit that received produced a thin, hollow sound. Dolby Audio software lets the owner choose among music, movie, game, and voice presets and play with an equalizer. Again, this is my first experience with ThinkBook; therefore I had a tendency to compare it with the ThinkPad line of laptops that I use every day. 
Keyboard
Typing on the ThinkBook's backlit keyboard features quiet, low travel, quick key performance.  Some users my have a concern with the keyboard layout, however. The user will need to combine the Fn key and cursor arrows to experience functions for Home, End, Page Up, and Page Down keys because those are not dedicated keys. A plus, however, is the handy top-row shortcut keys, including two to place and hang up on conference calls. I just needed to remember that the conference call keys are there so I could use them.  Another unique keyboard feature is that pressing the F9 key opens an online support window for troubleshooting and upgrades. I miss the red ThinkPad signature trackpoint that I am used to on laptops, but that would not be expected on this convertible ThinkBook. The buttonless touchpad is responsive and easy to use. It takes only a light tap to click.
Display
 The display is acceptable, with rich colors and good contrast. I appreciate ThinkBook's glossy Gorilla Glass display that gives clarity to my images when running my graphics applications. One negative of glossy screens is that they don't work well outdoors because of the glare. Fortunately, my setup at home and when traveling around town to coffee shops etc. is indoors, so no problem there.
Battery
ThinkBook had no problem running for 8 hours on one charge. (Note: This was run in power-save mode rather than using balanced or high-performance mode .) The bottom line is that the battery is adequate, but I would not consider it great.
Productivity 
While the ThinkBook could handle my graphics applications adequately, I felt that the i5 processor did not have as much power as an i7 would have when it comes to running graphics apps and playing music or video at the same time. The i5 unit that I received is definitely not for gamers. For fun I tested it next to an X-series ThinkPad with an i7 processor that was running the same OS, same settings and same applications. There was a definite lag on the ThinkBook. I realize that the two systems are different, but I feel that if I were going to make a purchase I would spend more to have an X1 Yoga with an i7 rather than the ThinkBook with i5.
Weight
About 3-1/2 lbs.
Conclusion
The ThinkBook seems to be solidly built. I consider it perfect for daily productivity at home or in a small office and for streaming entertainment rather than for any serious gaming. I feel that it is a perfect device to use for travel and casual business purposes.  Additional Details:  ThinkBook 14s Yoga (14″) – Mineral Grey | Lenovo US
Bugbatter
LenovoINsider/Lenovo Advocate
Windows Insider MVP